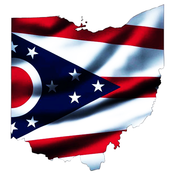 News every hour Monday through Sunday
on your local information Radio stations.
KOOL 101.7 fm HD2
790 WHTH am
& Buckeye Country 107.7 fm
News Headlines for Saturday, Feb. 4
GROUNDHOG BREAKFAST
The Cherry Valley Hotel & Ohio Event Center was packed Friday morning for the 67th Annual Licking County Chamber of Commerce Groundhog Breakfast. The event included the naming of the John Alford Community Service Award winner. This year's recipient is Jim Matesich, CEO Matesich Distributing.
Past Alford Award winners include - Dan DeLawder, Marcia Downes, Rick Platt, and Jennifer Utrevis. Sally Heckman, president and CEO of First Federal Savings was the celebrity groundhog.
MONEY FOR SAFETY UPGRADES
The state has announced that 900 additional schools will receive $112 million to support physical safety and security upgrades as part of the latest round of Ohio's K-12 School Safety Grant Program. 25 schools across Licking County will share in a little over $2 million.
MONEY FOR SOUTH CENTRAL POWER
The U.S. Department of Agriculture has approved a nearly $255 million loan to the South Central Power Company in Lancaster. The funds will be used to help build and improve 320 miles of power lines and transmission system projects.
A DROP IN JOBLESS CLAIMS
Ohioans filed almost 7,950 initial jobless claims last week and that was 1,100 fewer than the previous week, according to the Ohio Department of Job and Family Services.
COMMUNITY FORUM
The United Way of Licking County will host its next Community Partners Council forum Wednesday, Feb. 8 from 10:00am-12:00pm at the Licking County Aging Program on East Main Street in Newark. This month's topic highlights the Growing Homeless Population in Licking County.
PANCAKE DAY
The Granville Kiwanis Club is holding its popular Pancake Day on Saturday, Feb. 11 at St. Edward the Confessor Church.
Butch Curtis said next Saturday's Pancake Day runs from 7:00am-2:00pm. For more information visit the Granville Kiwanis Facebook page.
KOOL 101.7 / Buckeye Country 107.7 / 790 WHTH bring you the best in local news! Our experienced, talented news staff gets you the most accurate news in Central Ohio! We also use SRN to keep you updated on national events! We use weather from the National Weather Service! For the best local news, turn to KOOL 101.7 / Buckeye Country 107.7 / 790 WHTH!