HM3 Maxton W Soviak – Navy
August 26, 2021
Berlin Heights, Ohio
Freedom's Sentinel
22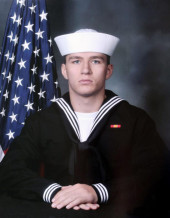 Soviak was a standout football player, on the wrestling team and graduated from Edison High School in 2017. He was involved in the Boy Scouts and earned the Life Scout rank.
22-year-old Soviak was among the 13 U.S. service members killed in an attack at the Abbey Gate of Hamid Karzai International Airport in Kabul, Afghanistan on August 26. Soviak was part of the U.S. mission, Operation Allies Refuge, while assigned to 1st Marine Regiment, 1st Marine Division, based at Camp Pendleton, California, to evacuate tens of thousands of people from Afghanistan as the nation ended its 20-year-long war in that country.
Kip Soviak, Maxton's father, spoke at the service saying that a tragedy like this has made the Soviak family stronger and also the community stronger.
Kip and Maxton's mother, Rachel, were able to speak with Maxton's commanding officer and learned that the final moments before their son's death were heroic.
"It was while he was providing aid (to a mother and child) that the bomber slipped up into the chaos and struck. Our son did not suffer," he said.
His siblings also spoke at the service saying it is an honor to see the nation mourn the loss of this American hero because "once he put that uniform on, he belonged to us all," but they also gave insight into what is was like to grow up with their brother, whom they affectionately called, "our Max."
His sister Kathleen said although he loved traveling the world he never forgot the importance of coming home.
"For everyone who wants to honor Maxton's memory," she said, "this is what I have to offer you: Go live. Fill the book of your life with stories. Push yourself to do something that scares you. Go bigger. Go harder. And most importantly of all, love fiercely."