Ohio's Fallen Heroes Moment
Ohio Fallen Heroes Memorial, Church Street Floor Coverings, Puff N Stuff, KMA Electric and Heating & Cooling, KOOL 101.7/Buckeye Country 107.7 and staff, would like to pay respect to the Servicemen and Women from Ohio, who have made the ultimate sacrifice fighting the war on terrorism since 9/11/2001.
Please join us every Sunday morning, at 8:50 am, on KOOL 101.7 fm, when we will feature the biography and profile of one of Ohio's Fallen Heroes.
Sunday, November 17th, 2019 - Sgt. Justin F Hoffman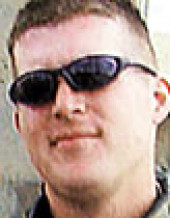 Hometown: Delaware, Ohio, U.S.
Age: 27
Died: August 03, 2005 in Operation Iraqi Freedom
The Associated Press
Justin F. Hoffman's mom chuckled at his quirks: the playful voicemail messages left on her cell phone, the endless AOL Instant Messenger chats, his curious ability to eat mealworms at pet shops.
"Justin was more or less a reality show," Carole Hoffman said. Hoffman, 27, of Delaware, Ohio, died Aug. 3 during combat operations south of Hadithah. He was based in Columbus.
His father, Robert Hoffman, said Justin was bright — an Ohio State University graduate who worked in information systems at Cardinal Health — but was big and strong and needed an outlet for his energy.
After six years, his time in the Marine Reserves was up last year, but when he learned his unit was to be activated, he signed up again.
"He wanted to be there for his men," Carole said. "He wanted to lead his men."
Lately, he had enlisted family members to scout for a diamond ring.
"He teased about proposing as soon as he got off the plane," said his girlfriend, Teri Price. "I can't imagine my future without him. I loved him more than anything."
Justin's younger brother, Tyler, said, "He was a great brother and more than that he was a great friend."
Courtesy of the Fallen Feather Project
Listen to Previously Honored Ohio Fallen Heroes Moment's